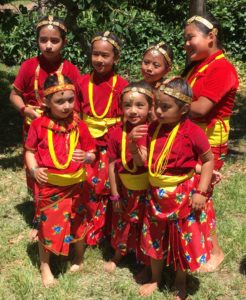 The annual Himalayan Fair takes place in Live Oak Park, Berkeley, drawing thousands of participants over a weekend in May. Arlene Blum, Berkeley resident, pioneering mountain climber and noted climate scientist, was so taken by the many bazaars or meeting places she encountered during a trek along the length of the Himalaya that when her friend, Lama Kunga, suggested creating a Berkeley version in 1983, she enthusiastically responded. Several hundred fairgoers enjoyed the first Himalayan Fairs, which featured a cow, a young elephant and Nepali food cooked by a local Nepali language teacher and volunteers.
An annual event since 1983, the fair has grown to fill Live Oak Park, showcasing vendors and crafts from all over, food from Himalayan regions and a stunning array of musicians and dancers. Classical and folk dances, ancient and modern music, traditional and fusion presentations will delight you throughout both days of the fair. It has truly become a manifestation of the early vision of a meeting place where many aspects of culture are celebrated. A unique blend of traditional and modern representations of Himalayan regions, the fair has something for everyone. Berkeley has been an ideal host for the fair, with numerous, intersecting connections to the countries of the Himalayas.
Mission Statement:

To draw together community members from Tibet, Nepal, India, Bhutan, Pakistan, Afghanistan and Myanmar, and other interested people to celebrate the cultural diversity of the Himalayan region. To produce an annual festival that incorporates the commerce, entertainment and social gathering space of a Himalayan bazaar, and provide a venue for up-and-coming performers as well as seasoned headliners in the performance arts of the Himalayan region. To support charities in the Himalayan region.
SaveSave
SaveSave
SaveSave
SaveSave
SaveSave
SaveSave